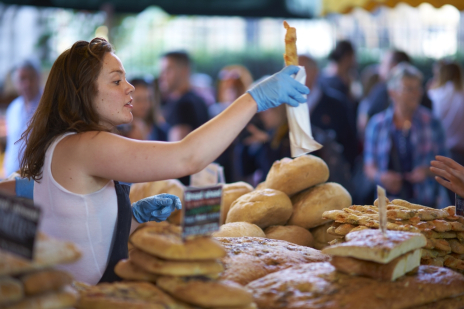 5 markets to visit in London
London is a dream shopping destination for all of us and a trip to this dreamy city is incomplete without shopping. And trust me when we say that you shop till you drop! London markets have everything that you are looking for – from fajitas to Ferrero, from stilettoes to shrimps.
Wait, no! You do not have to burn a hole in your pocket shopping at London! From the best of the brands to the best of flea markets – this stunning city is home to everything that you need at any budget. If you want to indulge in an authentic British lifestyle, book your accommodation with HeyHolidays – the best place to book a vacation stay. Whether you are backpacking or with your family your hosts can whip up a guide in minutes – from emergency contacts to the best pubs.
Going to London anytime soon? Don't forget to immerse yourself in exhausting and utterly satisfying shopping experience at these five awesome markets!
Camden Lock Market
Open seven days a week, the Camden Lock market works like a charm on eager-to-shop nerves. Housing more than 100 shops, you will find everything that you can possibly think of – from antique jewelry to handmade décor items, from alternative fashion to pop cuisine. Camden Lock is a perfect example of do not judge a book by its cover – the market may look like your local supermarket (just that it is on the streets), but you will soon find yourself arguing with your inner voice on just buying anything that catches your eye. It's shopping that soothes the heart for sure!
Borough Market
The foodie in you will be on a roll at the Borough Market, open between Mondays and Saturdays. Open for lunch on Mondays and Tuesday and in full swing from Wednesdays through Saturdays, the food items and fresh produce available here will make you want to settle down nearby for good. No, we are not joking! From Mongolian barbecue to fresh seafood, organic vegetables and fruits to freshly baked breads – it's a world of gastronomical delight waiting to be explored.
Portobello Market
The iconic setting of the evergreen Notting Hill, Portobello Market is open across the week between Mondays and Thursdays. One of the liveliest places in London city, Portobello is home to some of the craziest antiques from the World War II era – a lot of them you might not figure out a use for! A hub of artefacts and antiques, Portobello is also a great place to hang out with friends or even on your own. Musicians, poets, artists and dancers throng this place, so don't be surprised to catch a few original tunes here and there or come across a visual masterpiece in one corner of the road. Portobello is a great place to experience all kind of crowd in London – from the bohemians to the college kids, from the middle-class families to a few celebs here and there.
Brick Lane Market
If street shopping is your mode of intoxication, rush for this haven on Sundays. From second-hand clothing to high-end street fashion, Brick Lane boasts of some of the most unique pieces of accessories in the world. Thousands of Londoners flock this street on the weekend, so beware of getting lost. And if you are an Indian craving for some home-cooked food and all the diverse spices, Brick Lane Market should top your touring locations!
Greenwich Market
We have all learned how Greenwich is the origin of time. Well, visit this stunning market and you can experience time-standing still as you drown yourself in the goodies that surround you. Open between Tuesdays and Saturdays, and home to some of the coolest pubs to have ever existed, Greenwich hosts everything from arts to fashion. With 120 plus stalls dotting the place, the Market is home to some of the most gorgeous cottage-industry knick-knacks. The proximity of the Trinity college of Music is an added treat and you can very often catch some of the students performing somewhere around the labyrinth of stores and is one of the best shopping experiences across the globe.
Like Vivienne Westwood claimed, "There's nowhere else like London. Nothing at all, anywhere." There is no end to the number of cool markets in London and we bet you won't complain of too much shopping here!