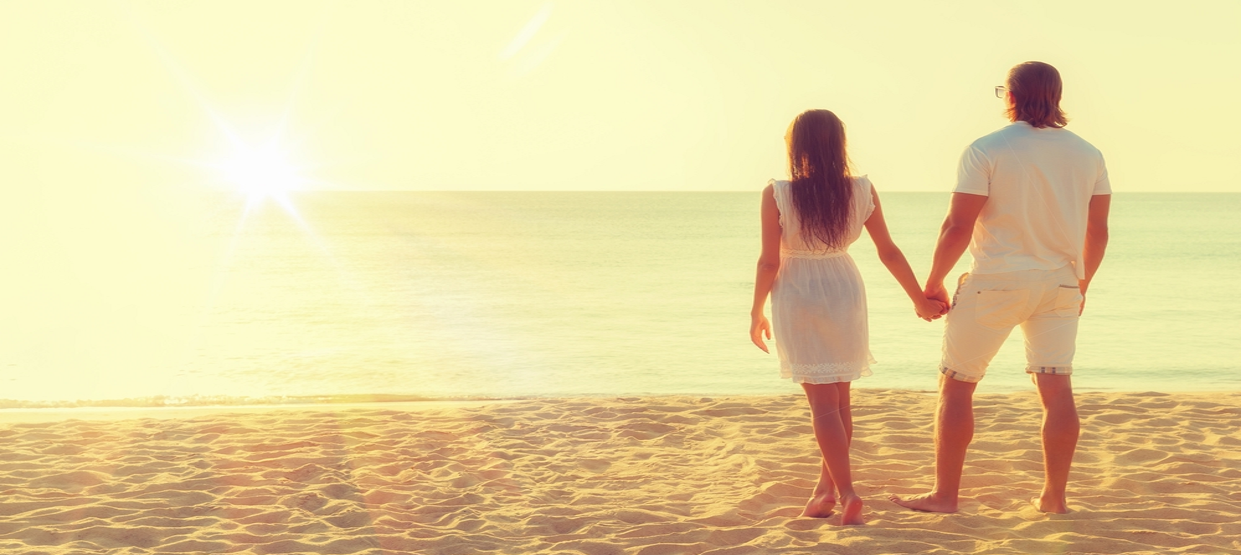 A Romantic Escapade with HeyHolidays in Goa
White sands, blue skies, little waves breaking on your toe, old forts – doesn't it seem like the perfect getaway with your partner? Yes, that's Goa we are talking about! One of India's most popular vacation spots, Goa is not just for the heart-pumping, soul-uplifting parties, but a haven of romance and intimacy – oh and I can be one pumped with rushes of that adrenaline too.
Be it for your honeymoon, or just a weekend of intimacy with your partner, Goa is just the place to be if you are looking to drown yourself in an environment of amour! And guess what, we just made Goa even more thrilling with our all new vacation stays!
Here at HeyHolidays, we believe nothing beats a vacation with a local flavour. Book one of our homestays, and our hosts will help you experience this quaint little beauty of a town in its most authentic palate. From the sunrise beach parties to paragliding sessions, a native will be full of the best places to hit in town. And you know when we say it's going to be one hell of an awesome ride!
This beautiful double-bedded room is set around Gaura Vaddo with just a host of things to keep you busy, in case you decide to go out. From the serenity of St. Alex Church to the thrill of Casino Palms, this homestay is just for you if you are planning to tour Goan whenever you can. And for all those shopaholics, don't miss out the Saturday Night Market and the Anjuna Market.
It's one of the prettiest cottages we have seen, and we are sure you will agree too. Book this gorgeous single-room club cottage and you will probably spending a spellbinding evening everyday with that special one! Oh did we mention that old bottle of Port is must for your moods?
A sexy room on Baga Beach Road with a priceless sea view, this one is for all you lovebirds looking to get lost in an embrace in front of your window! The tranquil sea-breeze, the energy of Baga Beach and of course, the ephemeral ambiance of Goa, will make for an unforgettable trip!
Another charming two-room homestay, this one is by the Calangute Beach – a destination of must-visit in Goa. The elegant yet minimalistic set up, complemented with a location in one of the hot-spots in town, makes this HeyHolidays property a must on your next visit!
A cosy vacation rental to host all your 'drunk in love' moments, again just a 5 min walk from the Calangute Beach, is the answer to your vacation of chill. Even with the proximity to a busy location, this homestay is as peaceful as it gets. Sip on a cup of coffee by the verandah as you catch up on your amorous moments.
Okay, we absolutely adore the pool in this community. A perfect complement for all your lazy vacation moments, this cute little 1 BHK is great for the chillers. If you are looking to get away from the monotonous hustle-bustle of daily life, nothing beats chilling with your loved one by the water over a beer!
Another pretty home, another pretty pool. This amiable little homestay has a dreamy view of the pool to get your nerves relaxing. Go for an early morning swim, though we highly recommend that you hit the ocean, and it is a freshness you will not have known amidst the honking congestion of urban life.
This vacation rental is one of the snuggest we have experienced, complemented by that dainty verandah. Located at the capital, this one is as close to the local urban life that you would get to in Goa, and it is also the closest you will get to some of the best food in Goa at one place. Did we forget to tell you about the awesome nightlife just next door?
Sounds posh? Okay, this one near Colva Beach is really easy on your pocket and is close to one the prettiest beaches in Goa. One of the bets coastal villages by the Arabia Sea, Colva is a dream setting in south Goa with almost a 2.4 km coastline. Basking in the sea breeze while you sit in the pool, let the quiescent atmosphere wash over you with love!
This villa near Colva is hottest retro things around. The display of Portuguese grandeur coupled with the absolutely delightful pricing is sure to make you fall in love with this home stay. If you are fond of spacious areas, then this is just the accommodation you had been looking for your vacation!