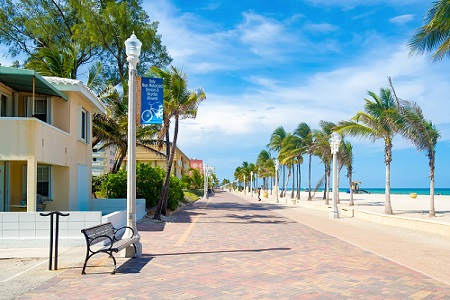 Fabulous Florida - 5 reasons to visit in 2017
2017 is on a roll and we have already started putting our travel bucket lists together! And the very first destination on our plate is the fabulous Florida, also known as the Sunshine State. Florida is the pop choice for anyone looking for a destination with beaches, booze and a whole lotta fun!
So, you must be thinking, why Florida this year? Isn't it the cliché American holiday? Well, no, because Florida will be awesome in 2017 with a host of events, ranging from food to music! Book a homestay with HeyHolidays to experience Florida in its glorious native flavor, along with the plethora of international programs. From authentic local cuisine and hosts to guide you through a life-changing vacation to globally renowned musicians filling your soul, a trip to Florida with HeyHolidays is a must this year!
Read our list of top five events this year in Florida you must head to!
The Gasparilla Pirate Fest - January 28, 2017
Always dreamt of being a pirate? Here's your chance to be one in Tampa. Originating from the fable of the mythical pirate, José Gaspar, who was believed to have been operating from this lovely coast, the event witnesses a playful rendition of the pirate taking over the city. In it's102nd edition, the Gasparilla Fest is organised by the Ye Mystic Krewe of Gasparilla and the City of Tampa, and witnesses numerous activities such as parade, arts festivals and road races. So, ready to be Captain Sparrow and set sail?
The National Football League Pro Bowl - January 29, 2017 onwards
Love your ball game? Then you cannot miss one of the biggest tournaments in America. Starting January 29 between the American Football conference (AFC) and the National Football Conference (NFC), the Pro Bowl witness some of the biggest soccer enthusiasts with a host of stars lining up to catch the game. Are you game for this experience of a lifetime?
The Florida Keys Marathon Seafood Festival - March 11-12, 2017
Florida is known for its pristine yet glamorous beaches, so you cannot afford to miss hanging around these white stretches. But what if you couple it with some surf and seafood? If you are heading to Florida, don't miss the Marathon Seafood Festival for anything in the world. You will be all set to experience the freshest and most scrumptious seafood in the country, complemented by the magical weather. So, gear for a marathon of treats for your palate!
SunFest - May 3-7, 2017
One of the most thrilling waterfront music festivals globally, SunFest has steadily held its ground as one of the best musical experiences ever since its inception in 1983! Featuring some of the most successful artists from around the country and the world, this festival is five days of sheer indulgence by Florida's Intracoastal Waterway. Here's another way to make sure that your visit to the beaches is not just spent lazing around. So put on your dancing shoes and prepare to revel in a magnificently musical environment by the Atlantic Ocean!
Coke Zero 400 - July 1, 2017 onwards
Does speed thrill you? The world's only motorsport stadium at Daytona is beckoning you for yet another season of the popular NASCAR series - Coke Zero 400. Catch some of the top international racers as they battle it out over the weekend, complement by the amazing UNOH Fanzone and oh yes, free Wi-Fi coverage! Don't miss the pre-game events and Geico Camping for a holistic experience of this speedy event!
Make sure your pack your bags with the right mix of fun and glamour for an out-of-the-world vacation! Watch out for our next blog where we will tell you about how your dream to visit Florida can be a reality with HeyHolidays!